Hello everyone,
I am very new on Ranorex, in fact I just start to using the software this week. Everything is self taught and online searches. Company automation engineers does not use Ranorex, so no help from them.
currently company uses Ranorex version 6.1, I know it is old (hence no one uses it) and I dont think we can update to the newer version without company say so.
that being said, my issue is I was able to use Ranorex Spy to get the path for the "Open" button within the file explorer window: /form[@title='Open']/button[@text='&Open' and @pressed='True'].
However, although button is set to @pressed='True', but it does not seems the button is been pressed.
Here is the screenshot in case my question is not clear.
Note: we use in house automation software in conjunction with Ranorex.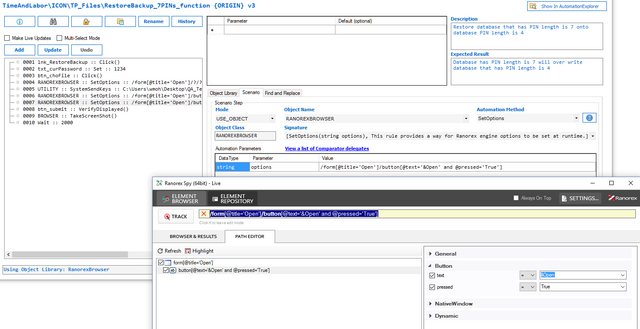 TIA